Tech Tip ✨ Getting GC Ready for a New Year ✨
Welcome Back Everyone!
As you begin to prep your classes, here is a quick checklist of tips and reminders for setting up your new Google Classrooms. Keeping your Google Classroom organized is helpful for you and your students!
✅ Adding students to your class: You have options, you can link your GC to Aeries, Invite your students to join, Give the Code on Day 1 (it's your choice!)
✅ Clean up your classes from last school year: It's not too late, take a moment to archive old classes and clean out your dashboard ✅Title your class tiles so you can easily identify each class & sort class tiles by using drag and drop ✅Use "TOPICS" to organize your content: This helps students find their work easier! ✅ Create a "TODAY" or "GET STARTED" topic and pin it to the top of the list. You can post your weekly agenda, quickstarts, or to-do list here. ✅Sort Topics: Once you create topics, you can "drag and drop" to place in the order you prefer. TIP: Keep the most recent posts at the top, especially if you keep the same GC running all year. There is a lot to sift through, so keeping the pertinent material at the top makes it easier for students to find.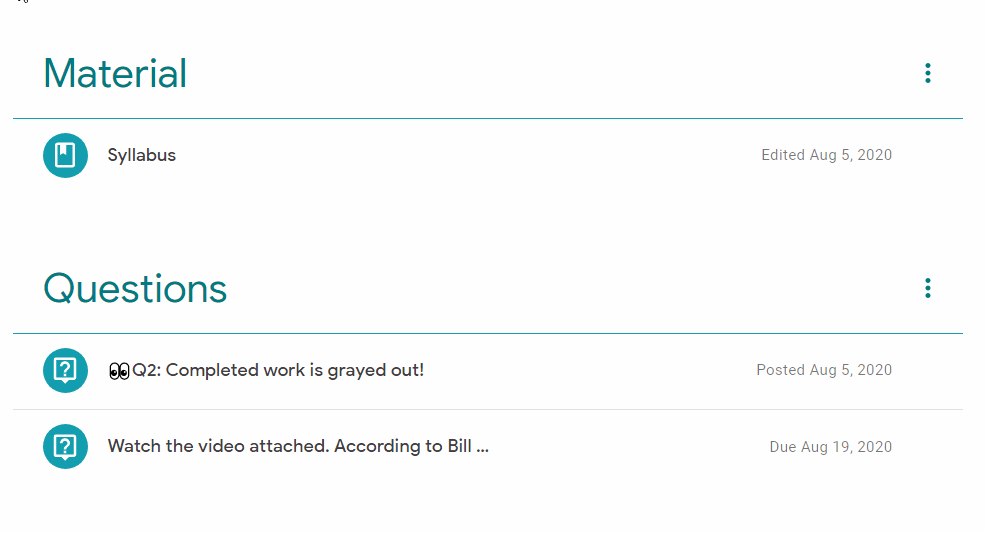 You can also use the "three dots" to move up or down one topic at a time (shown below).
✅ Use Assignment Numbers: Use a numbering convention (for example: begin with #001) when assigning work. This will make it easier for students to locate work. For example, you can say, "Complete assignment #001 in the Assignment Group. Use the same naming convention when you post into Aeries - so students can easily find their work in both platforms. When you post work in GC and give it a different name in Aeries, it is difficult for students to keep track of work and scores. You can keep a separate numbered list for each topic, or just keep a running number list for the entire Google Classroom. Another idea is to number any "Questions" posted, for example: "Q1: Describe the 3 Main Points." This way all assignments begin with a "#" and all Questions begin with a "Q."
✅ Use Emojis: Use emojis* to make a Topic and/or Assignment stand out. You can place emojis in the Topic or in the Assignment. Just copy and paste the emoji where you want it.*Where do I find emojis? Go to emojepedia.org or download the Chrome Extension "Emoji Keyboard by JoyPixels"
✅ If you need any refreshers, you can visit all the Google Classroom Content from www.techtipswithcamille.com. All the content is broken down into small video segments.
As always, please reach out if you have any questions or want to schedule an in-person meeting.